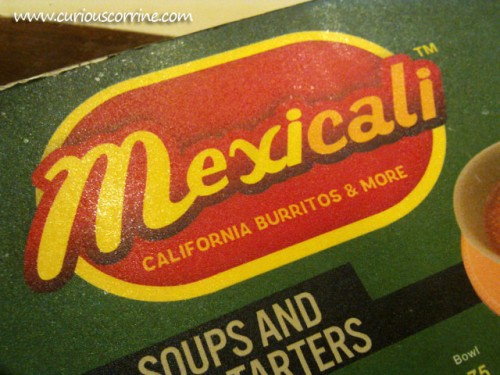 Mexicali is one of my favorite affordable restaurants in Manila. I've been here so many times already but I feel like this is only the first time I saw their logo. Perhaps its because I don't really browse their menu and instead choose to pick what I'm having via the massive board above the cashier? I could be wrong though. Tell me, is this really their logo? Or is this a new one? 😀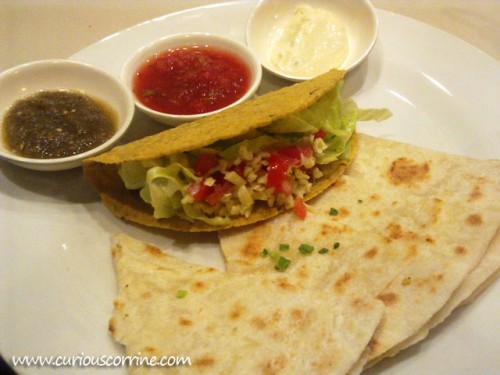 Usually I would order a regular burrito and a separate order of quesadillas. That particular night however, I was feeling partially full so I controlled my appetite and went with a more conservative meal–the Combo 3 (tacos + four quesadillas).
This one's such a disappointment. The quesadillas were falling apart because there were barely enough cheese to hold the two tortillas. The taco was just as depressing because I couldn't taste anything. I guess it was a mistake to order from their Combo selection. Next time, I'm ordering the regulars instead.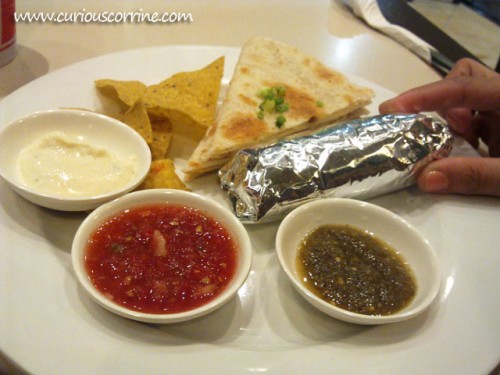 Even my best friend's choice–Combo 5, methinks–was the picture of the saddest dinner ever. How tiny is that burrito?! My friend was laughing like a lunatic when the waiter approached our table to serve it to her. It's probably the tiniest burrito we've ever seen. 😀
Just to clarify though, Mexicali's combo meals come with two options. The other one's small and the other's well, uhm, regular. We chose the small ones because we assumed "regular" is similar to their normal sizes. Apparently that's not the case. So, when you're in Mexicali and torn–stay away from the "small" plates. 😀
Love this post? Why not subscribe to us for free via e-mail. Receive the latest updates from Patay Gutom straight to your e-mail inbox. Don't forget to confirm your subscription by clicking the verification link that will be sent to your e-mail!
Tags: Burritos, Mexicali, Quesadillas, SM Mall of Asia
This entry was posted by
Hanna Corrine Salta
, who has written 63 posts as
corrine
, on Thursday, June 28th, 2012 at 9:16 pm and was filed under
Fast Food
,
News
.