I would like to present to you one of my original Pacham food recipes. If you're curious watch Pachman means, it's simply defined as Pachamba-chamba; a short way of saying Pachamba-chamba. Pacham is also known as Paswerte-swerte, in English, Palucky-lucky. If you're lucky enough, then your Pacham recipe will taste really good! Here's a picture of my first perfect cooked Fried Tuna with A1 Steak Sauce and Minced Garlic.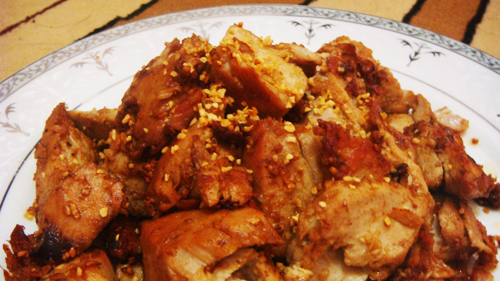 I'm not an expert in making food recipes and I never made one before. Forgive me if I don't know how to make a proper food recipe because this is my first time to make one.
I'll just enumerate the ingredients then tell you how to cook it. Actually, I just stir fried it until it was well-done.
Ingredients:
1. A1 Steak Sauce
2. McCormick Minced Garlic
3. McCormick Powdered Garlic
4. McCormick Powdered Onion
5. 1/4 Kilo Tuna Cubes
6. Cooking Oil (Of course)
How to cook this awesome recipe:
0. Turn on your stove
1. Add cooking oil in your frying pan and wait for 5 minutes
2. If the cooking oil is hot enough and you can't wait to put your 1/4 Kilo Tuna Cubes, then don't hesitate to put it in your frying pan
3. Fry your tuna until it's semi-cooked
4. Add at least 3 table spoons of McCormick Powdered Garlic
5. Add at least 10 table spoons of A1 Steak Sauce
6. Add at least 3 table spoons of McCormick Powdered Onion
7. Now add 5 table spoons of McCormick Minced Garlic
8. Mix Mix and Mix all your spices, sauce and your 1/4 Kilo Tuna
9. While you are mixing, slice your tuna in your frying pan
10. Mix all of your ingredients and wait for 10 minutes while mixing
11. After 10 minutes, check if your fried tuna is properly fried.
12. If you think your tuna is well-done, sprinkle some minced garlic onto it until you are satisfied of how your Garlic Fish Steak ala Jehzlau looks like. Yay!
Once done, your Garlic Fish Steak ala Jehzlau should look like this:

Soon, I will create a video version of this recipe to make my cooking technique more detailed. So watch out for it!
That's it! Was that easy? Cook your own Garlic Fish Steak ala Jehzlau now!