My Thai is definitely one of our go-to restaurants for yummy yet affordable food whenever we're in Greenbelt. It's unassuming simplicity, no-fuss presentation, and homey flavors are just some of the factors that made us love their menu. As I'm out of work these days, I trooped to Makati and met up with the boyfriend and some friends.
What would a visit to a Thai restaurant without ordering Chicken Satay? Completely incomplete. I never found dipping this in peanut sauce enjoyable. I enjoy eating this on its own. :p
I don't remember what's this dish called because I bowed out of the whole ordering affair because it can get a little crazy when you have more than two persons deciding. It's basically kangkong (water spinach) topped with chili peppers. I suppose it's supposed to have a tinge of kick to it, but it really wasn't. It served as a good pica-pica with beer though.
We also had this whole plate of chicken (again, I forgot the name). It's your typical fried chicken, with the bonus of crispy skin.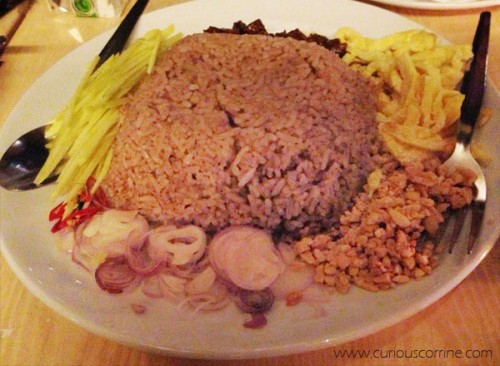 One of our My Thai favorites is the Bagoong Rice. It's a whole meal on its own because of the medley of green mangoes, nuts, onions, and savory rice. I swear I can eat this on its own. If you ever pass by My Thai, I am compelling you to have this. Although it can be such a hassle to mix 'em all, it's worth it.
I'm also not sure if there are other My Thai branches around the metro. Besides Greenbelt, where else have you found My Thai? 🙂