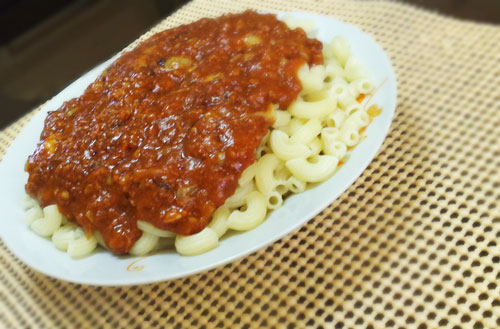 If there's one thing I love about cooking, it's the endless possibilities of combining ingredients to achieve a unique flavor. I was browsing the contents of our refrigerator this afternoon and I found a couple of "cookables". I decided to make my own Macaroni Meat Sauce.

Ingredients for Macaroni Meat Sauce ala Yagit:
Del Monte Macaroni
Left over tomato sauce from last night's dinner
Minced Garlic
McCormick Powdered White Pepper
McCormick Granulated Garlic
White Onion
Ground beef
Lots of Cheddar Cheese
Parmesan Cheese
Flaked Chilis
How to cook:
Cook the macaroni for 15 minutes in a hot boiling water with 1 teaspoon of rock salt.
After cooking the pasta, drain the water using a strainer and set aside.
Saute garlic and chopped onions in a sauce pan.
Add the garlic beef and simmer until cook.
Add last night's leftover tomato sauce. *This part makes the sauce "ala Yagit".
Mix last night's leftover tomato sauce with the beef.
Add some grated cheddar or Parmesan cheese.
Simmer for 5 minutes or until the cheese has melted.
Pour the meat sauce on top of the pasta.
Top with grated Parmesan cheese.
[optional] Add some flaked chilis for extra spice.
Love this post? Why not subscribe to us for free via e-mail. Receive the latest updates from Patay Gutom straight to your e-mail inbox. Don't forget to confirm your subscription by clicking the verification link that will be sent to your e-mail!
Tags: lycopene, macaroni, Pasta, tomato sauce, yagit recipe
This entry was posted by
Winston Almendras
, who has written 6 posts as
nitrosaint
, on Saturday, March 7th, 2009 at 6:27 am and was filed under
Original Recipes
.