This is my third attempt in cooking Pacham! And of course, I'm sharing it with you here at Patay Gutom. I will be enumerating the ingredients of this original recipe and how to cook it. This is another magic recipe with McCormick just like my previous recipes that was posted on this very blog. Without further ado, here's a snap shot of Fish Adobo ala Jehzlau



Here are the basic ingredients of this scrumptious recipe:
1. String Beans
2. Ocean Fresh Fish Cubes
3. Mama Sita's Oyster Sauce
4. Silver Swan Soy Sauce
5. Datu Puti Vinegar
6. McCormick Powdered Garlic
7. McCormick Minced Garlic
8. McCormick Powdered Onion
9. McCormick All Spice
10. McCormick Bay Leaves
11. McCormick Black Pepper
And oh, here's a picture of the two basic ingredients used in this recipe:

How to cook Fish Adobo ala Jehzlau:
1. Pour a small amount of cooking oil in your frying pan
2. Add at least half teaspoon of powdered garlic and onion in your frying pan
3. Once the powdered garlic, onion and cooking oil is thoroughly mixed, add your fish cubes
4. Wait for 10 to 12 minutes until your fish cubes is cooked
5. Cut the string beans by 2 inches then pour it in your frying pan
6. Add a fair amount of vinegar, soy sauce, and water
7. Mix all the ingredients together and add at least 5 table spoons of Oyster Sauce
8. Add 1/4 teaspoon of McCormick All Spice (Continue Mixing)
9. Add Bay Leaves and Black Pepper
10. Mix all together and wait for 5 minutes
11. Check if your fish cubes and string beans are cooked enough
12. Taste it, and if you think that it's already cooked and good to eat, then stop cooking! Yay!
That's all for the instructions. Forgive me if I'm not that "GOOD" in creating food recipes.
Here's the output of the experiment! Weee!

Here's a macro shot of Fish Adobo ala Jehzlau!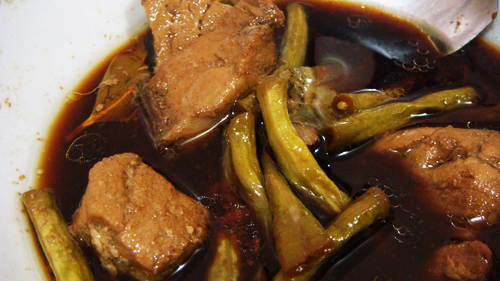 That's all for today, I hope you like it!