The Emerging Influential Blogs for 2009 Writing Project started last week. We are happy to inform you all that Patay Gutom managed to enter the first week.
We know that you are having a hard time deciding on which blog you should include on your list. If you are still hesitant if you should vote for this dead hungry blog of ours, then let us help you out decide by giving you 10 strong points on why you should include us on your list:

1. There are Patay Gutom Respondents all over the country. – We have respondents from Manila, Cebu, Davao, Cagayan de Oro, Pangasinan and even as far as Kuwait and the US of A! That is the power of dead hungry individuals collaborating for a very inspiring project that actually encouraged a number of newbies to be proud that they are certified patay gutoms.
2. Andrew dela Serna, Jehzeel Laurente, Winston Almendras, Fitz Villafuerte, Jaypee Habaradas among others – Enough reason, right? 😛
3. Jehzlau is Reyna Elena's BFF – The Founder and King of the Patay Gutom empire Jehzeel Laurente and the controversial Queen Reyna Elena are BFFs. Want proof? Check the very lovely photo below.
4. Carlo Ople endorsed us – Thanks to Carlo Ople for the Patay Gutom Bloggers incident. Though most bloggers were hurt with the statement, our blog's traffic increased so Yey for us! 😀
We actually had a very funny encounter with him during the iBlog5. We handed out our personal and Patay Gutom cards to him. He was rather pleased than irritated. We even managed to have a souvenir photo with him and guess what? He voted for us! Yey!
5. Tita Noemi Loves us too! – Our dear Mom Blogger's food blog is one of our favorite blogs in the whole world. Good moms loves kids who cook and eat food and we love Tita Noemi that's why we are happy and honored upon seeing our blog on her list! Weeee! She even took a happy photo of ours with Carlo Ople after the iBlog5 summit. Tita Noemi also congratulated me, Winston and Fitz for our lectures that day.
6. We offer original pachamba-chamba recipes – Our resident Pa-cham master Jehzeel Laurente blogged about his Garlic Fish Steak, Tuna Brocolli and Fish Adobo. Yagitster Chef Winston Almendras also shared his Macaroni Meat Sauce ala Yagit as he is a certified Pasta monster. The yagit sauce 100% germ free.
7. Almost everybody wants to be a Patay Gutom member! – From the original three members representing Manila (Jehz), Cebu (Winston) and Davao (Drew), the group added three more members like Mica (Manila/Pangasinan), Fitz (Manila) and Jaypee (USA). Before we know it we already have eighteen members! Everybody wants to be a Patay Gutom! Unfortunately, we are no longer accepting members. Just believe in yourself that you are a Patay Gutom. Just Believe. Don't give up. Believe in your dreams. You can do it!
Here's the list of Patay Gutom Respondents
8. A controversial celebrity loves us – Two months before the scandalous news broke out, HK is already a supporter of the Patay Gutom blog. More celebrity Patay Gutoms will be featured soon!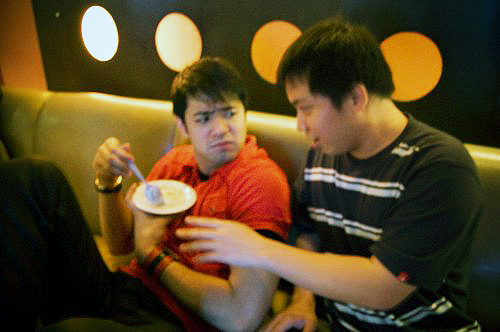 9. We have our own personalized calling card – We printed out some copies of our professional calling cards and we are proudly giving these out to restaurant owners and entrepreneurs. We are professionals in our own ways and own right. PG FTW!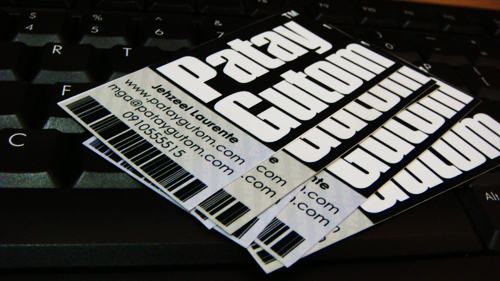 10. Nyok nyok nyok nyok. Nyok Nyok nyok?! Nyok nyok nyoooookkkkk!!!! 😛
So there 😀 We would like to thank everyone who voted for us. Ipagpatuloy niyo lang hehe Patay Gutom For The Win!!!